Mia & Loop
From
Regular price
£1,078.00
Mia Grey Ceramic Dining Table And Loop Dining Bench Set
The kitchen is very often the heart of the home, so you'll need a practical and stylish place to gather the family together. The Mia Grey Ceramic Dining Table and Loop Dining Bench Set is ideal. Comfortable dining benches with a premium faux leather upholstery and a durable ceramic dining table mean this family dining set is perfect for busy, everyday living. We recommend the perfect pairing for this bench is with a pedestal dining table.
These products have been added to your bag
Select your style
0% finance available
Free Delivery on all Dining Sets
0% Finance Available

On all orders over £1,000

Rated Excellent

Rated as 'Excellent' by our customers.

Free Returns

Just In Case.

Standard Delivery

From just £29.99 on 100s of products.
The Danetti Difference
Every element considered.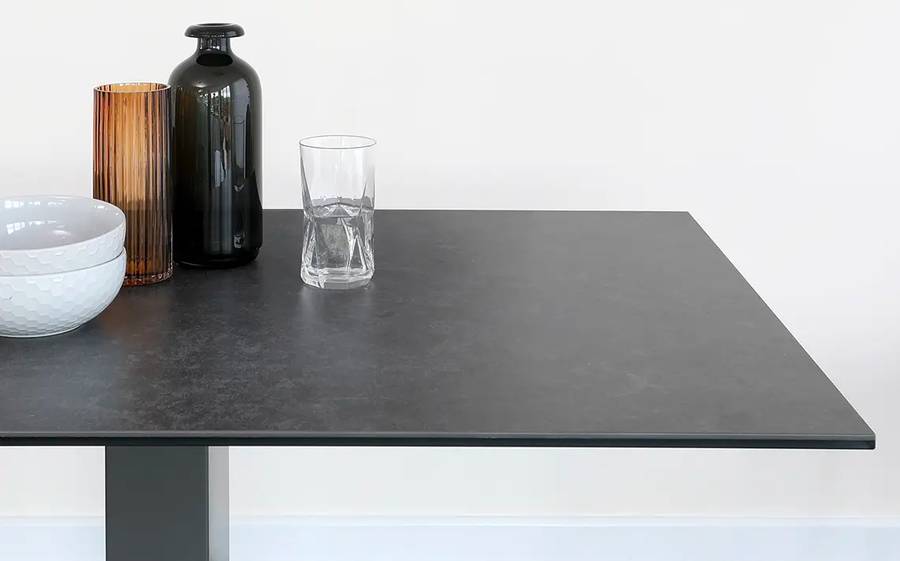 01.

Highly Durable

This ceramic table top is designed combining materials. With a ceramic surface, backed onto tempered glass it offers the benefits of both with 200°c heat resistance so hot dishes and drinks can be placed directly onto the surface, high durability, impact resistant, non-porous, scratch resistant and easy clean. this is our most durable dining table option. The perfect choice for modern family living.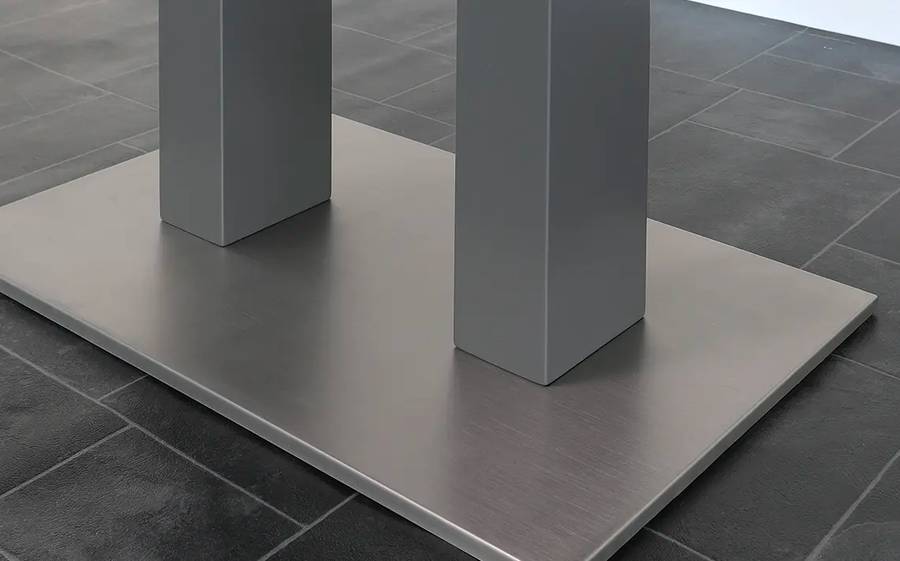 02.

Pedestal Base

A solid base providing strength and support. Our pedestal bases allow extra room for movement around it with minimal obstruction.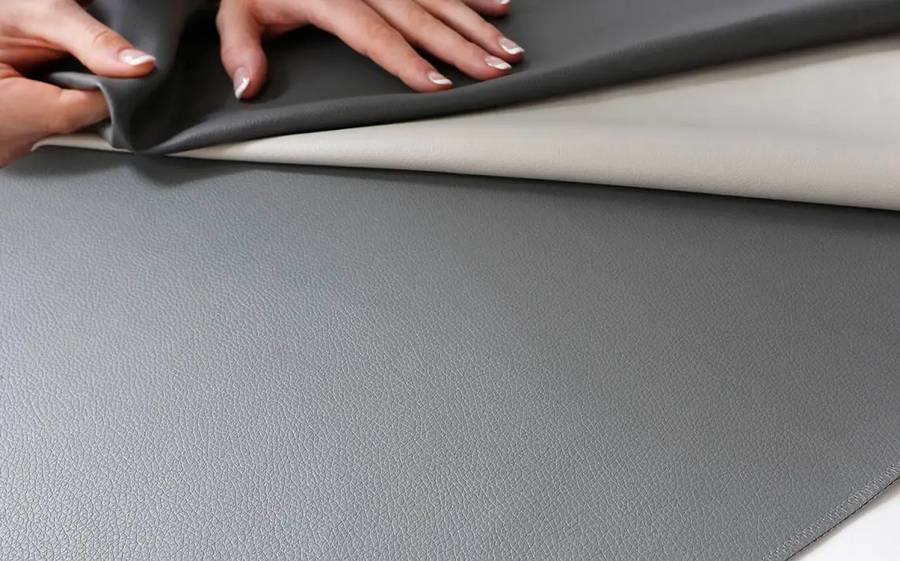 03.

Durosoft Faux Leather

Developed by us, this faux leather has a beautiful soft feel and fine grain. It has an abrasion resistance of 100,000 rubs, higher than the market average, making it very durable. UV and light resistant to prevent colour fading.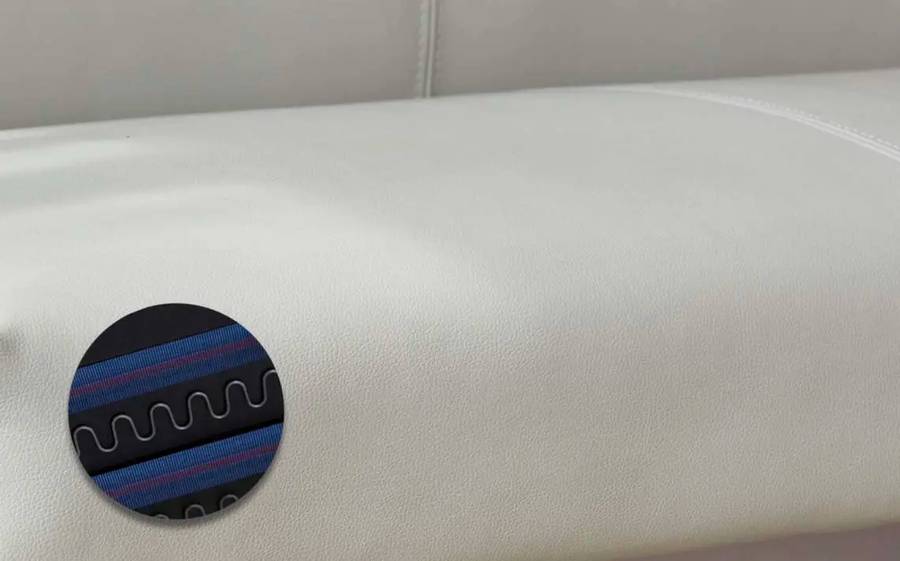 04.

Sag Resistant

We have added zig zag springs to allow this chair to preserve its original, comfortable shape over a longer period of time. Topped with a quality foam and finished with Dacron fibres. This fibre wrapping softens the edges adding further comfort to this bench.
Product Details
Critical details you need to know.
Mia 6 Seater Dark Ceramic Dining Table
| | |
| --- | --- |
| Table Height | 75cm |
| Table Width | 80cm |
| Table Length | 160cm |
| Base Width | 50cm |
| Base Length | 80cm |
Loop 3 Seater Bench without Backrest
| | |
| --- | --- |
| Bench Height | 46cm |
| Bench Length | 150cm |
| Bench Depth | 45cm |
Weight Bearing360kg
Loop 3 Seater Bench with Backrest
| | |
| --- | --- |
| Bench Height | 86cm |
| Bench Length | 150cm |
| Bench Depth | 60cm |
| Seat Depth | 45cm |
| Weight Bearing | 360kg |
| Height Of Legs | 31cm |
| Seat Height | 46cm |
Please note this product is classed as heavy and therefore please ensure that appropriate measures are in place for you to safely receive delivery.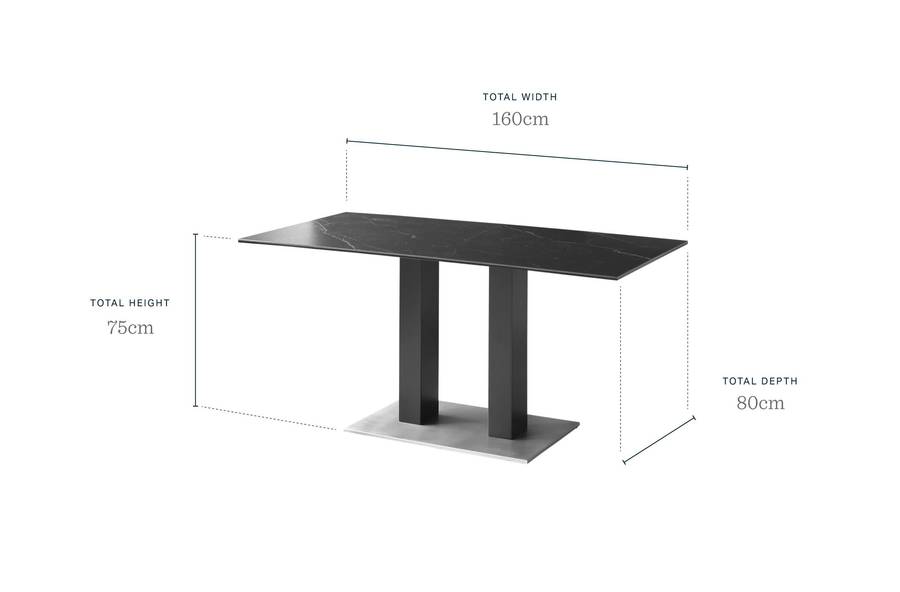 Don't be tempted to use an abrasive cloth or sponge on faux leather; stick to using soft cloths, applying a gentle amount of pressure in a circular motion. Scrubbing will just crack the leather rather than help to remove the mark. If you are ever unsure about the cloth you are using or about the cleaning product, it's always a good idea to test it on a small area of the seat that is plain out of sight, before going ahead and cleaning the whole thing.
To clean a ceramic table surface, use a wet sponge and a mild detergent. It's that simple! Because ceramic is extremely durable, it's less prone to scratches and stains than a natural stone, like marble, so you can spend less time worrying about the clean-up and more time enjoying mealtimes. Ceramic is scratch resistant which means it won't scratch as easily as some other surfaces, however, try to prevent dragging your big, heavy casserole dishes across the table. To protect the surface further, we'd always recommend you use mats and coasters.
As with all of our dining tables, this piece is delivered unassembled. We do this to make the products as streamlined as possible for transport, ensuring that it gets to you in great condition. To assemble the table you'll need to attach 4 metal rods to the table top, then slot on the pedestal legs. Finally screw the base to the pedestal legs and flip the table up the right way. Be sure to protect the glass surface and avoid pivoting the table on its corners. The table will come with full assembly instructions and fittings. On delivery the frame and the seat of this chair are separate. Assembly is very easy, it's just a case of fixing the frame to the seat using the ready drilled holes and fixings provided.
Assembly of this dining bench is really simple, all you need to do is attach the legs to the underside of the bench seat using the instructions and fittings provided.
Product Questions
Ask us a question about this product