Aria & Harper
Aria Grey Oak And Harper Blush Pink Velvet Dining Set
If cosy yet contemporary dining is what you're after, look no further than the Aria Grey Oak and Harper Blush Pink Velvet Dining Set. This modern dining set is a true statement piece, with the tempered glass legs of the Aria table and generously sized seat of the of the Harper chairs making this set really stand out from the crowd.
These products have been added to your bag
0% finance available
Free Delivery on all Dining Sets
0% finance available
0% APR Finance
12 interest free payments of
£156.91
Finance Available

On all orders over £1,000

Rated Excellent

Rated as 'Excellent' by our customers.

Free Returns

Just In Case.

Next Day Delivery

From just £29.99 on 100s of products.
The Danetti Difference
Every element considered.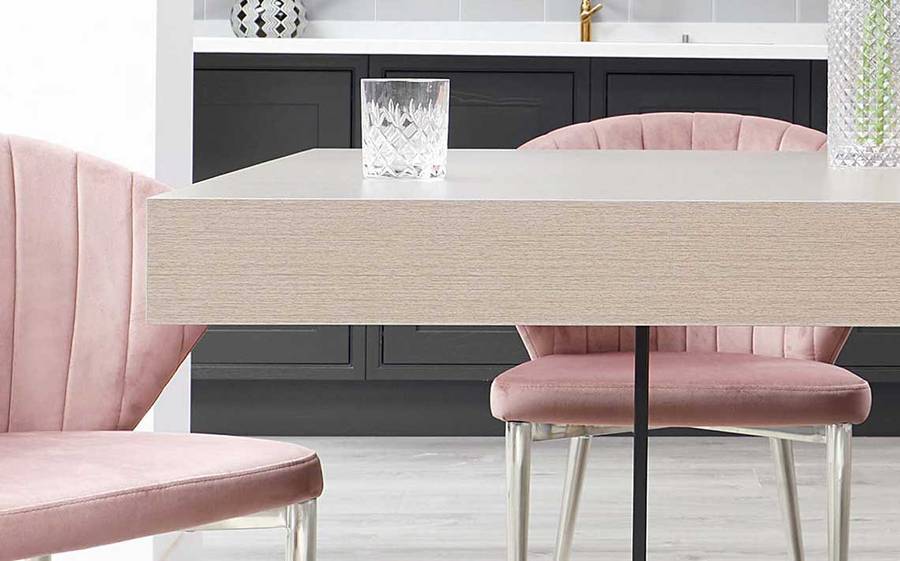 01.

Modern Timber

The 10cm thick table top of the Aria has a grey oak surface with a subtle wood grain running throughout. The thickness gives the table a strong visual impact, while the grey oak finish adds a modern, but less glossy, brightness to your dining space.
02.

Super Strong And Safe

The legs of the Aria are made from 12mm thick tempered clear glass. The legs have been rigorously tested for strength and durability, certified to British Standards which tests for quality of toughening and strength against impact. This is all to ensure that we are providing the safest materials for you and your family.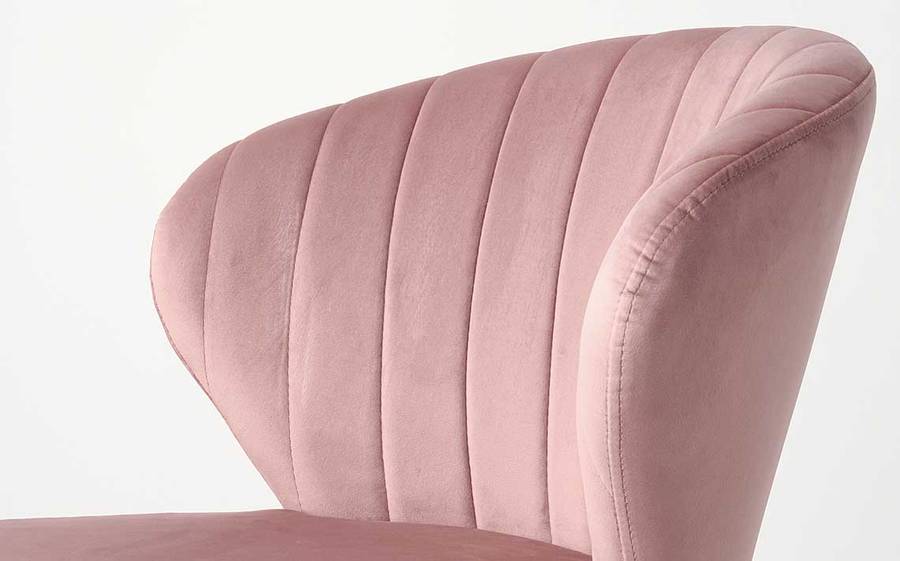 03.

A Contemporary Look

One of the glass legs runs along the width of the table at one end and the other runs along the length, providing an eye-catching yet stable base for this contemporary dining table.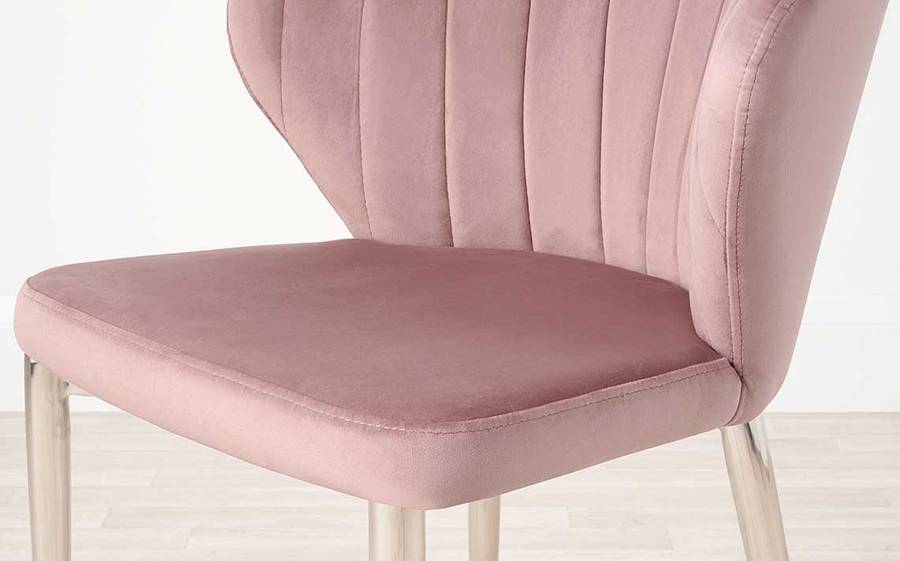 04.

Subtle Sheen

The velvet upholstery used for the Harper chair is a short pile polyester velvet but with the softer, matt appearance of cotton velvet. This means you get the soft look and texture of velvet without an overly sheeny appearance. It's a far more accessible way to introduce a plush velvet finish to your home.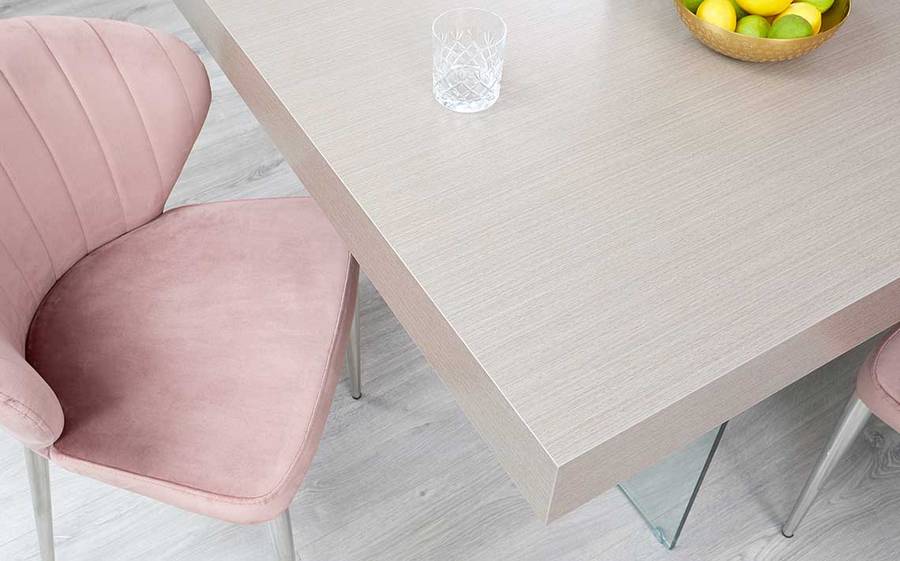 05.

A Glamorous Look

The shell shape and panel detailing on the back of the Harper chair is what gives this velvet seat its opulent and luxurious good-looks. This seat is a simple but effective way to give your dining area a glamorous, designer look.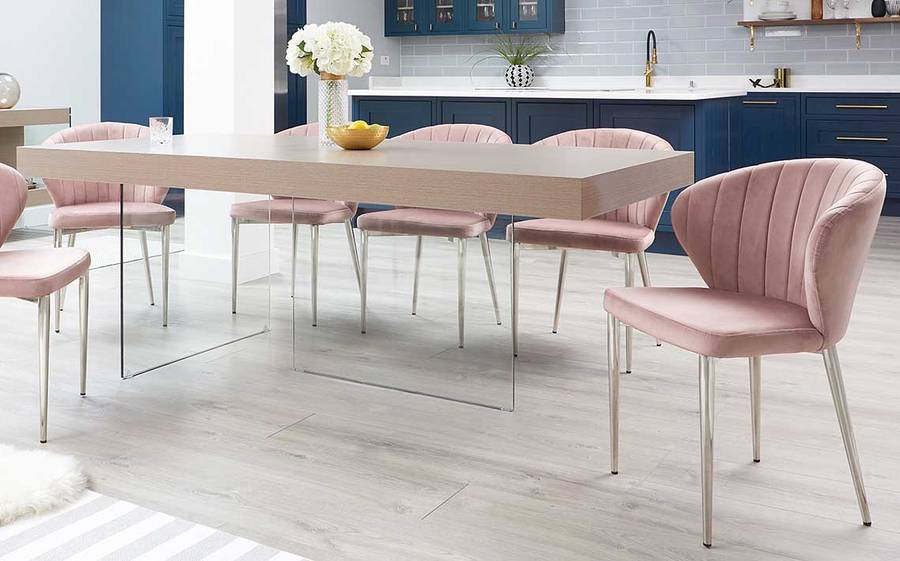 06.

How Many Seats?

The Aria dining table can seat between 6 to 8 people. The padded seat and winged back of the Harper make this chair a really generous shape and size, so you can sink back and get comfortable in this statement seat. The table size allows plenty of room for the chairs wider shape making this set a great match
07.

Modern Accent

The stainless steel legs are a bright and contemporary contrast to the smooth velvet upholstery. Easy to clean and maintain, stainless steel is a great coordinating feature with a variety of finishes in dining and kitchen interiors.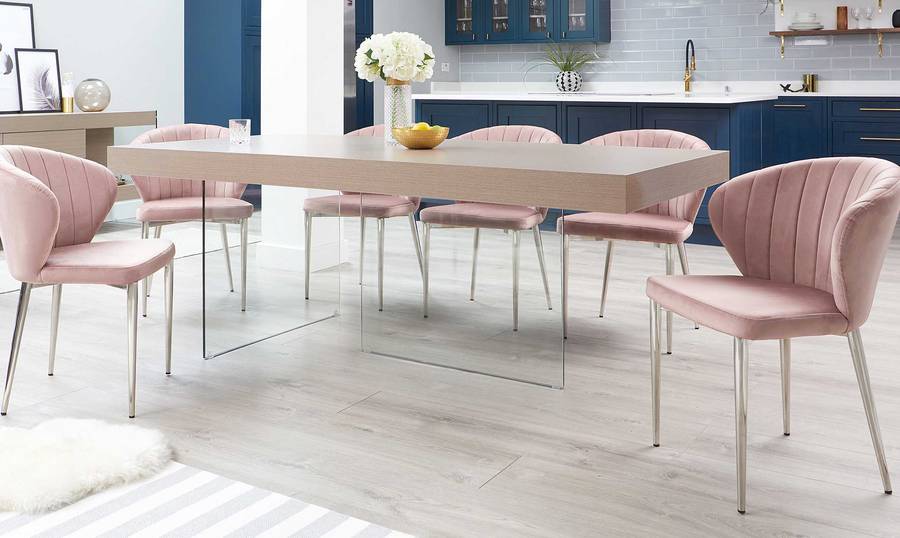 Product Details
Critical details you need to know.
Aria Grey Oak and Glass Dining Table
| | |
| --- | --- |
| Table Height | 75cm |
| Table Width | 100cm |
| Table Length | 200cm |


Harper Pink Velvet Dining Chair
| | |
| --- | --- |
| Chair Height | 78cm |
| Chair Width | 57cm |
| Chair Depth | 57cm |
| Chair Seat Height | 47cm |


Array
It's important to protect your wood veneer table top as the heat or steam from very hot plates can, over time, loosen the glue holding the veneer to the surface underneath. This is really easy to avoid by using placemats and coasters each meal time. Try to wipe up any spills as soon as they occur as liquids can seep through the veneer, again loosening the glue from the surface. Don't use a sponge to clean your wood veneer as this can just spread the liquid. Instead, use a paper towel or a clean dishcloth. When cleaning the wood veneer, dampen a soft lint-free cloth and wipe in the direction of the wood grain. For more stubborn marks, apply a dab of mild dishwashing detergent to your cloth and again wipe in the direction if the wood grain. To clean the tempered glass legs of this dining table, spray a non-abrasive glass cleaner onto a lint-free cloth and gently rub the glass clean in a circular motion. Then, with a dry microfibre cloth, buff the surface until it's dry. You can also use soapy lukewarm water and dish soap to give the table a good clean, but make sure you wipe away the soapy residue off of the glass after cleaning to avoid leaving water marks. To keep your velvet upholstered furniture looking its best, we suggest occasionally vacuuming the material to remove any bits that may be resting on the surface. To clean more stubborn surface marks, mix some dish soap (uncoloured) with some lukewarm water or a specialised fabric cleaner and use a spray bottle to lightly mist the solution over the velvet. Then, use something such as a cotton towel to gently wipe the mark away. Avoid heavy blotting or rubbing as this will potentially damage the surface. We suggest that you try to wipe up any spills with a paper towel or soft cloth as soon as they occur and that you make sure the material is dried thoroughly after cleaning.
The Aria Dining Table will be delivered to you unassembled so the table top and glass legs are as streamlined as possible for transport. The Aria is a relatively simple table to put together, it's just a case of slotting the glass legs into position on the table top and bolting them into place. The Aria table is quite large and will be very heavy to turn over to put into position, so we advise having at least two people to help construct this piece. On delivery the frame and the seat of this chair are separate. Assembly is very easy, it's just a case of fixing the frame to the seat using the ready drilled holes and fixings provided. No tools are needed to complete this assembly and full instructions will be included with your delivery.
Product Questions
Ask us a question about this product