Anton Marbled Ceramic Table and Harper Pink Velvet 6 Seater Dining Set
The simple lines and slim profile of the Anton marbled ceramic table are perfectly suited to the luxurious shell design of the Harper velvet chairs. The Anton Ceramic and Harper Pink Velvet 6 Seater Dining Set has premium finishes to create a welcoming, comfortable and uber-stylish dining space.
These products have been added to your bag
Select your style
0% finance available
Free Delivery on all Dining Sets
0% APR Finance
12 interest free payments of
£136.08
Finance Available

On all orders over £1,000

Rated Excellent

Rated as 'Excellent' by our customers.

Free Returns

Just In Case.

Next Day Delivery

From just £29.99 on 100s of products.
The Danetti Difference
Every element considered.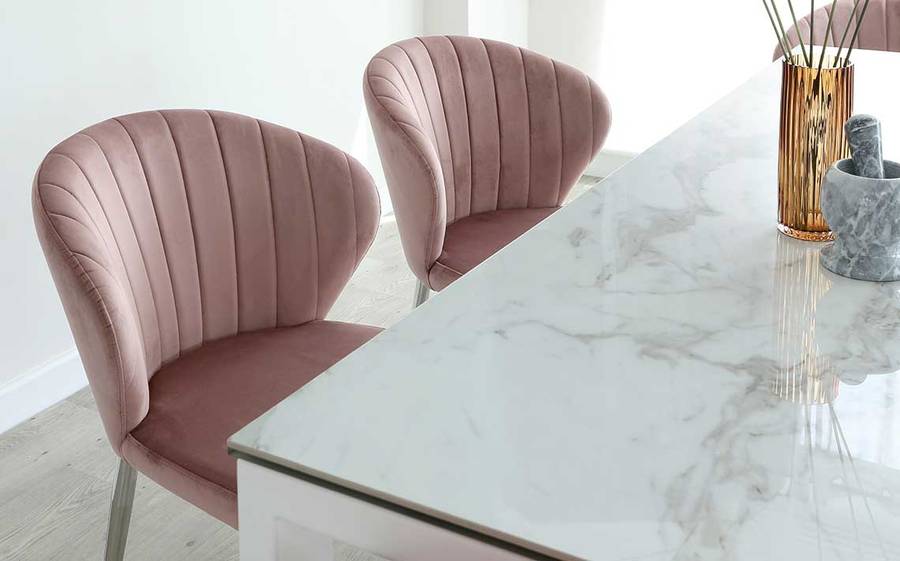 01.

From Oven To Table

The Anton 6 seater dining table has a ceramic surface, which is backed onto tempered glass. The ceramic material is resistant up to 200°C heat. So you can put things directly from the oven, such as hot plates, serving dishes or hot drinks without having to put down mats and coasters.
02.

Scratch Resistant Surface

The ceramic table top is also scratch resistant and much more hard-wearing that some other surface materials so you don't need to worry about it damaging easily.
03.

Marble Look Without The Hassle

One of the limitations of a real marble table, other than the price, is that it's porous. That's why the marble backed ceramic finish of the Anton 6 seater dining table is a great choice as it is completely non-porous, no need to worry about spillages or coffee cup rings. You'll get the luxurious look and feel of a marble table but with increased durability and at a better price.
04.

Create A Spacious Look

The table surface has a shiny, gloss finish which helps to gently reflect light around the room, another simple feature which helps the table to give your room a light, open and spacious look.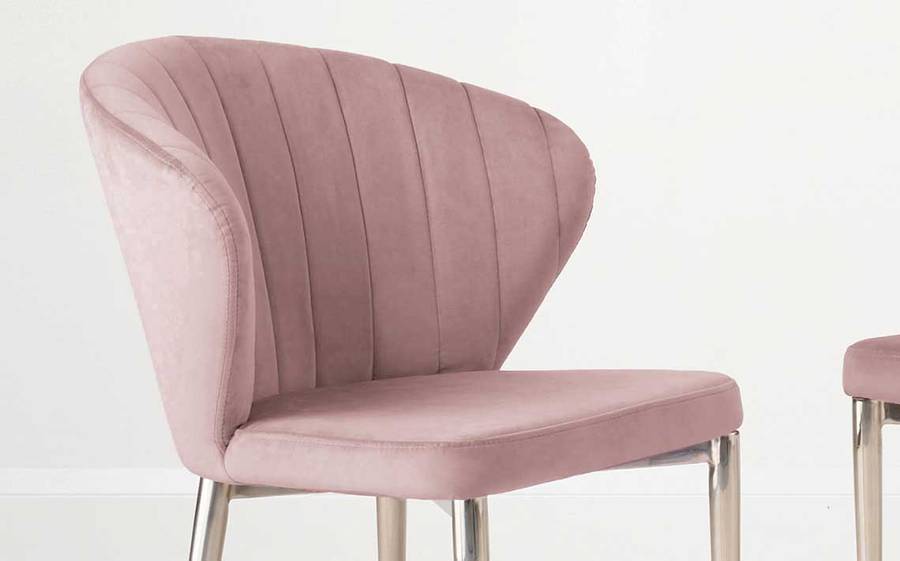 05.

A Glamorous Addition

The shell shape and panel detailing on the back of the Harper Shell Pink Velvet Dining Chair is what gives this 6 seater dining set its opulent and luxurious good-looks. This modern velvet chair is a simple but effective way to give your dining area a designer look.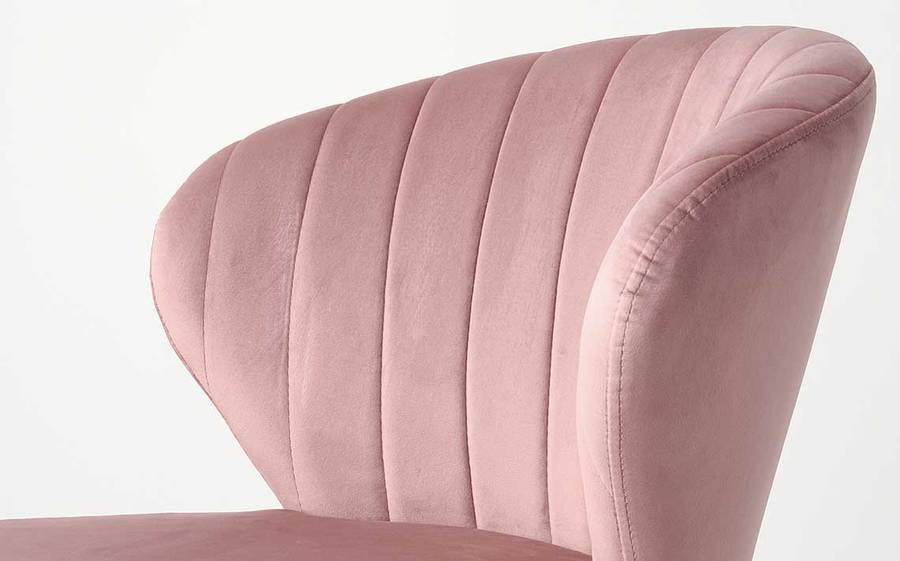 06.

Sink Into Comfort

The padded seat and winged back of the Harper make this chair a really generous shape and size, so you can really sink back and get comfortable in this statement seat.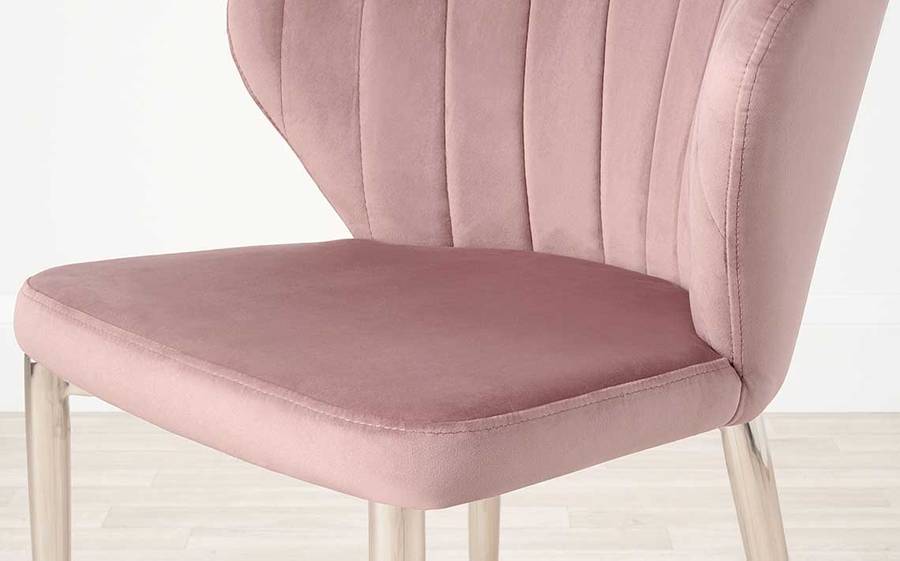 07.

Subtle Sheen

The Harper velvet chair's shell pink velvet upholstery has a light sheen to it and because the material picks up the light it has a rich appearance. Combined with the statement shape and design of the chair, the velvet finish makes the Harper a very luxurious and designer looking piece.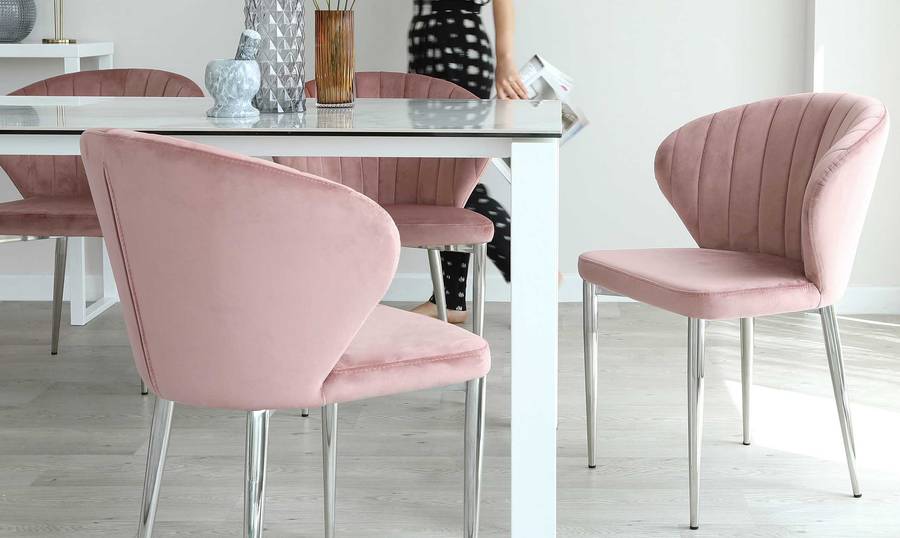 Product Details
Critical details you need to know.
Anton White Ceramic Marble 6 Seater Dining Table
| | |
| --- | --- |
| Table Height | 75cm |
| Table Width | 80cm |
| Table Length | 180cm |
| Width Between Legs | 164cm |
| Width Between Legs - End | 72cm |
Harper Pink Velvet Dining Chair
| | |
| --- | --- |
| Chair Height | 78cm |
| Chair Width | 57cm |
| Chair Depth | 57cm |
| Chair Seat Height | 47cm |
To clean a ceramic table surface, use a wet sponge and a mild detergent. It's that simple! Because ceramic is extremely durable, it's less prone to scratches and stains than a natural stone, like marble, so you can spend less time worrying about the clean-up and more time enjoying mealtimes. Ceramic is scratch resistant which means it won't scratch as easily as some other surfaces, however, try to prevent dragging your big, heavy casserole dishes across the table. To protect the surface further, we'd always recommend you use mats and coasters. To keep your velvet upholstered furniture looking its best, we suggest occasionally vacuuming the material to remove any bits that may be resting on the surface. To clean more stubborn surface marks, mix some dish soap (uncoloured) with some lukewarm water or a specialised fabric cleaner and use a spray bottle to lightly mist the solution over the velvet. Then, use something such as a cotton towel to gently wipe the mark away. Avoid heavy blotting or rubbing as this will potentially damage the surface. We suggest that you try to wipe up any spills with a paper towel or soft cloth as soon as they occur and that you make sure the material is dried thoroughly after cleaning. If the velvet has creases or has been a little squashed in transit, leave it for a few days in a warm environment and the velvet pile will relax. If you would prefer to speed up this process, use a hairdryer on a medium heat, from a distance of around 18in, warm the area and run your hand over the creases and they'll disappear.
The Anton Table will be delivered to you unassembled. Assembly is easy, you just need to attach the legs to the support bar and screw to the frame to the table top. You MUST upturn the table on a soft surface to protect the top and it should never be pivoted on any of the table legs. Make sure you have enough people to help if you are going to construct this piece yourself. The chairs will be delivered unassembled. Assembly is very simple, it's just a case of fixing the frame to the seat using the ready drilled holes and fixings provided.
Product Questions
Ask us a question about this product